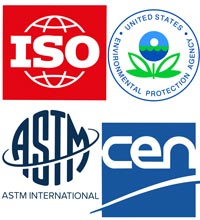 Supplies for standard methods
Markes' application specialists are active on committees working on standard methods, and also in the development of products to support method compliance. A variety of standard methods are available for monitoring specific VOCs often in prescribed sample types. For example, an automobile industry standard method might focus on materials such as plastic, leather or foam.
Our Standard Methods tool shows which Markes products are relevant to each method.
Overview
Organisations developing standard methods can be grouped into government agencies such as US EPA and UK HSE, international standards agencies such as ISO and CEN, and consensus-based standards organisations such as ASTM. When selecting an appropriate method to adopt, the following issues should be considered:
Any specific regulatory requirements/guidance.
Method scope e.g. ambient, indoor, workplace, material emissions test chambers.
Sampling and analytical requirements.
General guidance (e.g. choice of sorbents, selection of GC column).
Validation protocol.
Method limits – list of target analytes (if applicable), concentration range, detection limits, analyte volatility range, etc.
The benefits of following a standard method are clear: they are developed by subject-matter experts, who reach consensus on the best way to solve particular analytical challenges. Adhering to standard methods also helps to ensure consistent, high-quality results.