The theory and practice of diffusive monitoring
Application Note 008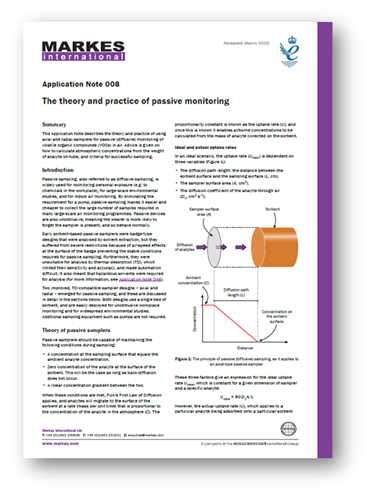 Passive sampling, also referred to as diffusive sampling, is widely used for monitoring personal exposure (e.g. to chemicals in the workplace), for large-scale environmental studies, and for indoor air monitoring. By eliminating the requirement for a pump, passive sampling makes it easier and cheaper to collect the large number of samples required in many large-scale air monitoring programmes. Passive devices are also unobtrusive, meaning the wearer is more likely to forget the sampler is present, and so behave normally.
This application note describes the theory and practice of using axial and radial samplers for diffusive (passive) monitoring of organic volatiles in air.
Advice is given on how to calculate atmospheric concentrations from the weight of analyte on-tube, and criteria for successful sampling.
Please complete the form below to download the full application note