Sampling technologies
Supplies and consultancy for sample preparation
Sampling technologies
For over 25 years, we've been working with customers on their sampling challenges in thermal desorption. Our team are here to share know-how and experience to help you get the best results when sampling VOCs from solids, liquids and gases.
Your questions answered - from recent customer interactions
Passive sampling by thermal desorption
Question Is it possible to quantify target VOCs using passive sampling with the POcket Diffusive (POD) sampler? We need to report the concentration in the air as a ng/L value.
Answer The POD sampler is quantitative and results can be calibrated in ng/L or µg/m3. First, calibrate your thermal desorption–gas chromatography–mass spectrometry (TD–GC–MS) system with the compound or compounds being monitored. This is done by injecting liquid standard solutions into industry-standard-size sorbent tubes and analysing them using the TD system in the normal way. Then, when you run the sampled POD cartridges in empty TD tubes using the same conditions on the same system, you will be able to determine the mass of each compound of interest collected on each POD during sampling.
Once you've done this, all you need are the POD sampler uptake rates for each compound of interest and the relevant sampling/exposure times, and you'll be able to determine the respective air concentrations for each compound on each sampler. Our list of published uptake rates covers the most common compounds. However, if you want to measure a compound that isn't yet on the list, it's relatively easy to determine uptake rates.
Question How does passive sampling with the POD sampler compare to pumped sampling and passive sampling using charcoal badge samplers?
Answer Pumped sampling of compounds using sorbent tubes is a valid approach but you should consider whether the extra equipment and steps required fit with your needs. Also, pumps require calibration and the flow rates should be checked at the beginning and end of sampling.
Analysts have gradually moved away from charcoal badge samplers for a number of reasons. They are less reliable than passive samplers and require desorption using a solvent – often CS2 – which is a laborious process requiring significantly more laboratory time per sample. The solvent desorption process introduces multiple points at which errors can occur, has a significant environmental impact and there are health and safety concerns. Each sampling badge can only be used once, which is an extra cost per analysis.
To talk to the team about your sampling challenges, get in touch at sampletech@markes.com
Spotlight on...
How diffusion-locking technology cracked the problem of high-capacity thermal desorption automation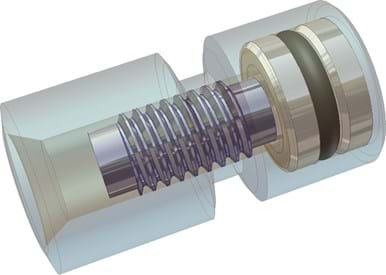 Highly efficient capping of thermal desorption (TD) tubes during an automated TD workflow is of paramount importance. Without this then data obtained is compromised, because of sample loss from the tubes and erroneous contaminant ingress onto the tubes.
Markes has overcome this issue by inventing, patenting, and using diffusion-locking technology for its TD tubes and automated instruments.
These DiffLok™ caps sit on both ends of a sorbent tube throughout the entire analytical sequence, in all Markes' automated thermal desorption instruments. Their patented design prevents loss of sample and ingress of contaminants onto the tube, and avoids the need for complex robotics to cap and uncap tubes.
Meet the team
For large or complex projects, the Sampling Technologies team offer a tailored consultancy service, which encompasses: Engineering, Sampling techniques, and Method development. The team is led by Damien Cull, Sampling Technologies Business Unit Manager. To discuss your application or project collaboration ideas please contact us by phone, live webchat or email
Joshua Marshall – Technical Product Specialist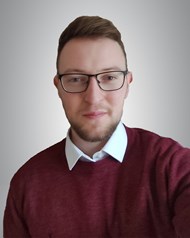 Josh holds a BSc in Analytical chemistry from the University of South Wales. He has worked in a number of ISO:17025 accredited laboratories, holding the roles of analyst and technical analyst focusing on method development using GC–MS and LC–MS.
Josh joined Markes as technical product specialist for the Sampling Technologies business unit. His role involves the development and validation of sampling products before release. The technical product specialist role also sees Josh provide technical support to customers who require help with Markes sampling products.
Email Joshua
Nick Bukowski – Principal Scientist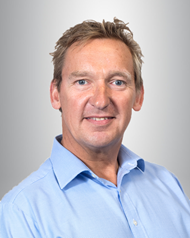 Nick Bukowski started his mass spectrometry ('MS') career with the VG manufacturing group of companies. He held numerous MS roles including applications lab manager leading up to the company's transition to Thermo Finnigan.
Nick managed a number of Informatics research programmes before becoming the product manager for the Thermo TEMPUS TOF system.
After a spell with Anatune in the UK, Nick joined Markes International in 2009 where he now manages cross-group product development.
Email Nick
Jon Williams – Research Scientist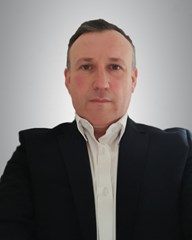 Jon joined Markes International in 2021 as an applied research scientist for the Sampling Technologies business unit. Jon holds a BSc in chemistry, a PhD in analytical chemistry (mass spectrometry) and is a Chartered Chemist (CChem) and a Fellow of the Royal Society of Chemistry (FRSC). He has over two decades of experience in mass spectrometry and has gained significant expertise in sample preparation and extraction. Jon has published over 50 peer-reviewed articles and has been involved in the development of many patented technologies.
Email Jon
Training courses

We also offer training with the Schauenburg Analytics Academy, which provides fully interactive online and classroom-based courses hosted by applications and engineering specialists from Markes and SepSolve.