UNITY-xr
Single-tube thermal desorption unit with unmatched upgradability
UNITY-xr™ is an industry-leading analytical TD instrument that provides exceptional performance for VOCs and SVOCs collected onto 3½-inch sorbent tubes, while offering unmatched upgrade flexibility for tube, canister and on-line automation. It's perfect for laboratories with low throughput requirements that are starting out in TD, or for analysts needing a versatile thermal desorber for all their TD applications (whether tubes, canisters, or on-line).
Benefits of UNITY-xr
Multi-Gas UNITY-xr – for the first time, enabling certified thermal desorption instruments to be run with a choice of carrier gases: helium, nitrogen and hydrogen.
Broad application range – UNITY-xr allows the widest possible range of VOCs and SVOCs to be monitored (C2 to C44), including reactive and thermally labile species), while the unbeatable split range (true-splitless to 125,000:1) enables both high-concentration and trace-level samples to be analysed.
Future-proof – UNITY-xr can be combined with additional modules to allow automation of multiple TD tubes, canisters and on-line samples – making UNITY-xr the perfect platform for expansion as the needs of your lab grow.
Enhanced performance – Due to the fully inert flow path and backflush trap desorption, UNITY-xr eliminates the risk of discrimination, minimises artefacts and optimises data confidence.
Lower running costs– The electrically-cooled focusing trap avoids the need for cryogen, and rapid heating/cooling ensures fast sample throughput.
Peace of mind– With quantitative sample re-collection for repeat analysis, UNITY-xr offers simple method/data validation and overcomes the 'one-shot' limitation of other systems.
Compliance with standard methods – Capability for tube and flow-path leak testing, water management, and internal standard addition ensure full compliance with key standard methods from numerous regulatory bodies, including US EPA, Chinese EPA, CEN, ISO, ASTM, HSE, JSA and NIOSH.
Outstanding productivity– UNITY-xr offers unmatched analytical performance for the widest range of TD applications (and is compatible with all major makes of GC and GC–MS).
Easy and intelligent operation – Built-in standard-method parameters, automated self-checking diagnostics and usage/maintenance counters maximise instrument uptime.
Versatility in 60 seconds
In this video we explain the versatility of Markes' UNITY-xr thermal desorbers; being able to process samples from sorbent tubes, canisters, bags and even directly on-line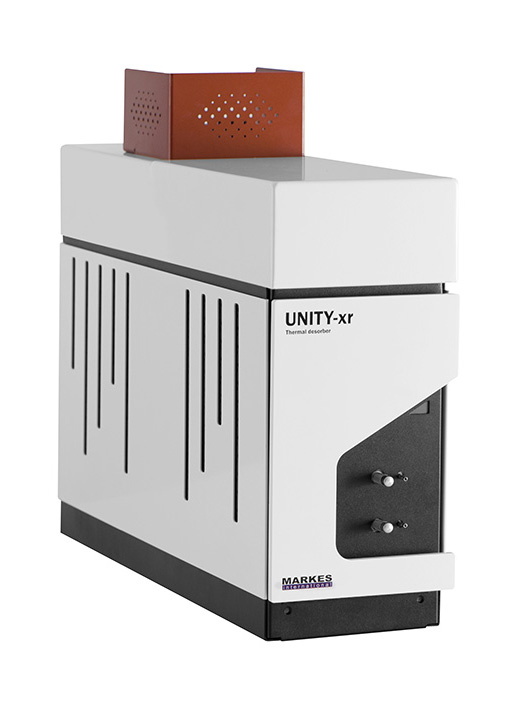 Download product brochure and technical specification
UNITY-xr