UNITY-xr
Single-tube thermal desorption unit with unmatched upgradability
UNITY-xr™ is an industry-leading thermal desorber providing state of the art functionality and exceptional analytical performance for individual sorbent or sample tubes plus unmatched upgrade flexibility for tube, canister and on-line automation. It's perfect for research laboratories, labs with low throughput requirements and those wanting to explore the business potential of thermal desorption for the first time.
UNITY-xr is also available with our award-winning Multi-Gas functionality. UNITY-xr Multi-Gas is the only single tube thermal desorber optimised and independently certified for operation with a choice of 3 carrier gases: helium, nitrogen and hydrogen. Hydrogen carrier gas offers fast, cost-effective analyses and protection against future helium shortages.
Market-leading advantages of UNITY-xr
Eliminate helium dependency – Use of hydrogen, nitrogen or helium as a carrier gas with our  Multi-Gas UNITY-xr.
Sample security – Unique among single tube desorbers UNITY-xr offers quantitative sample re-collection for repeat analysis, overcoming the one-shot limitation of historical TD systems and offering simple method/data validation.
Cost saving – The electrically-cooled focusing trap eliminates the expense and inconvenience of liquid cryogenic cooling and removes the risk of ice blockages thus maximising uptime.
Versatility – UNITY-xr can be combined with additional modules to allow automation of multiple TD tubes, canisters and/or on-line air/gas samples – making UNITY-xr the perfect platform for expansion as the needs of your lab grow.
Broadest available application range on one TD platform – UNITY-xr is compatible with organic compounds ranging in volatility from C2 to n-C44 hydrocarbons plus reactive and thermally labile species. The unbeatable split versatility (splitless to 125,000:1) also enables both high-concentration and trace-level samples to be analysed.
Compliance with standard methods – Stringent leak testing, re-collection and a range of advanced water management options ensure full compliance with key standard methods from numerous regulatory bodies, including US EPA, Chinese EPA, CEN, ISO, ASTM, HSE, JSA and NIOSH.
Enhanced performance – An inert flow path and backflush trap desorption eliminate the risk of discrimination, minimise artefacts and optimise data confidence.
Compatibility with GC and GC–MS from all major manufacturers – minimises the upfront investment required to investigate new TD markets for your lab. UNITY-xr can even be interfaced to direct MS instruments for high throughput targeted analysis.
Easy and intelligent operation – Built-in standard-method parameters, automated self-checking diagnostics and usage/maintenance counters maximise instrument uptime.

Versatility in 60 seconds
In this video we explain the versatility of Markes' UNITY-xr thermal desorbers; being able to process samples from sorbent tubes, canisters, bags and even directly on-line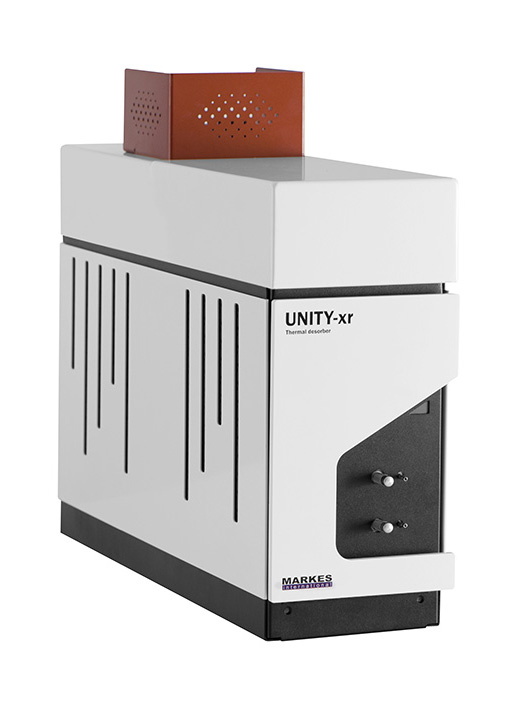 Download product brochure and technical specification
UNITY-xr