Use of diffusive samplers with TD–GC analysis for monitoring VOCs in ambient air
Application Note 010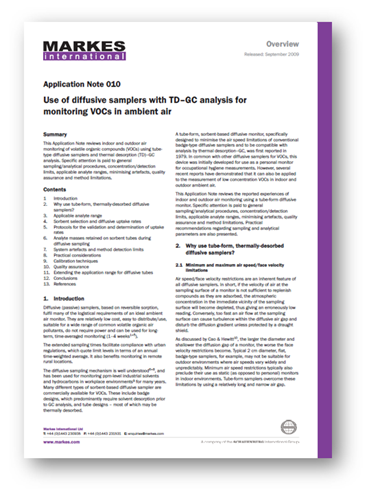 Diffusive (passive) samplers, based on reversible sorption, fulfil many of the logistical requirements of an ideal ambient air monitor. They are relatively low cost, easy to distribute/use, suitable for a wide range of common volatile organic air pollutants, do not require power and can be used for long-term, time-averaged monitoring (1–4 weeks).
This application note is a review of indoor and outdoor air monitoring of VOCs using tube-type diffusive samplers and TD–GC analysis.
Specific attention is paid to general sampling/analytical procedures, concentration/detection limits, applicable analyte ranges, minimising artefacts, quality assurance and method limitations.
Please complete the form below to download the full application note