Analytical thermal desorption: History, technical aspects and application range
Application Note 012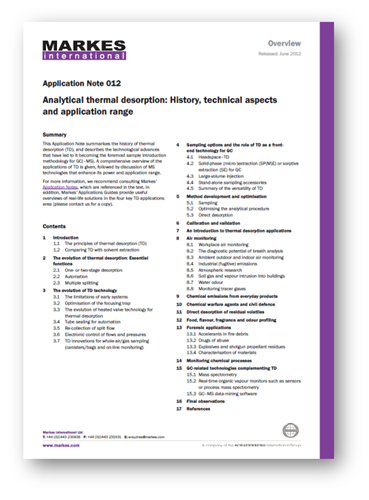 Thermal desorption (TD) is the most powerful and versatile of all gas chromatography (GC) sample introduction technologies. It is readily automated and serves to combine sampling/sample preparation, selective concentration and efficient GC injection in one fully-automated procedure. It is compatible with sampling and analysis of gas- (vapour-) phase organics trapped on sorbent media and allows concentration factors up to 106 to be comfortably achieved. It can also be used for direct gas extraction of volatiles and semi-volatiles from solid or liquid matrices.
This application note summarises the history of thermal desorption, and describes the technological advances that have led to it becoming the foremost sample introduction methodology for gas chromatography. 
The applications of thermal desorption are also reviewed.
Please complete the form below to download the full application note