Confirming sorbent tube retention volumes and checking for analyte breakthrough
Application Note 020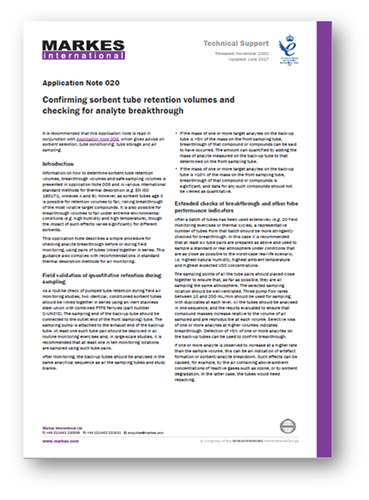 As sorbent tubes age, it is possible for retention volumes to fall, risking breakthrough of the most volatile target compounds. It is also possible for breakthrough volumes to fall under extreme environmental conditions (e.g. high humidity and high temperature).
This application note describes a simple procedure for checking analyte breakthrough before or during field monitoring, using pairs of tubes linked together in series.
This guidance also complies with recommendations in standard thermal desorption methods for air monitoring.
It is recommended that this application note is read in conjunction with Application Note 005, which gives advice on sorbent selection, tube conditioning, tube storage and air sampling.
Please complete the form below to download the full application note