Optimising analytical performance and extending the application range of thermal desorption for monitoring air indoors and inside vehicle cabins
Application Note 028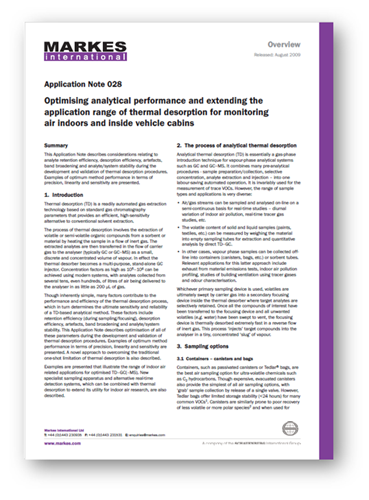 Thermal desorption (TD) is a readily automated gas extraction technology based on standard gas chromatography parameters that provides an efficient, high-sensitivity alternative to conventional solvent extraction.
Though inherently simple, many factors contribute to the performance and efficiency of the TD process, which in turn determines the ultimate sensitivity and reliability of a TD-based analytical method. These factors include retention efficiency (during sampling/focusing), desorption efficiency, artefacts, band broadening and analyte/system stability.
This application note describes optimisation of these parameters. Examples of optimum method performance in terms of precision, linearity and sensitivity are presented. A novel approach to overcoming the traditional one-shot limitation of TD is also described. 
Please complete the form below to download the full application note