Workplace air monitoring using pumped sampling onto sorbent tubes and analysis by TD–GC–MS
Application Note 037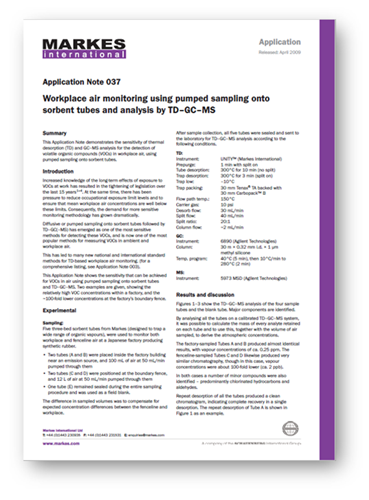 Increased knowledge of the long-term effects of exposure to VOCs at work has resulted in the tightening of legislation. At the same time, there has been pressure to reduce occupational exposure limit levels and to ensure that mean workplace air concentrations are well below these limits.
Consequently, the demand for more sensitive monitoring methodology has grown dramatically. Diffusive or pumped sampling onto sorbent tubes followed by TD–GC(–MS) has emerged as one of the most sensitive methods for detecting these VOCs, and is now one of the most popular methods for measuring VOCs in ambient and workplace air.
This application note shows the sensitivity that can be achieved for VOCs in air using pumped sampling onto sorbent tubes and TD–GC–MS.
Please complete the form below to download the full application note