Occupational exposure limit levels for VOCs compatible with TD–GC
Application Note 038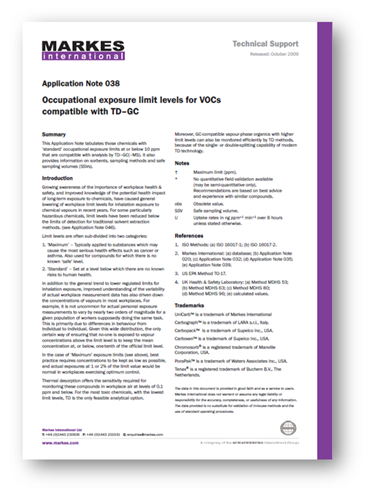 Growing awareness of the importance of workplace health & safety, and improved knowledge of the potential health impact of long-term exposure to chemicals, have caused general lowering of workplace limit levels for inhalation exposure to chemical vapours in recent years. For some particularly hazardous chemicals, limit levels have been reduced below the limits of detection for traditional solvent extraction methods.
Limit levels are often sub-divided into two categories: 'maximum' and 'standard'.
This application note tabulates chemicals with 'standard' occupational exposure limits at or below 10 ppm that are compatible with analysis by TD–GC–MS.
It also provides information on sorbents, sampling methods and safe sampling volumes.
Please complete the form below to download the full application note