Direct desorption of VOCs and SVOCs from leather furnishings
Application Note 040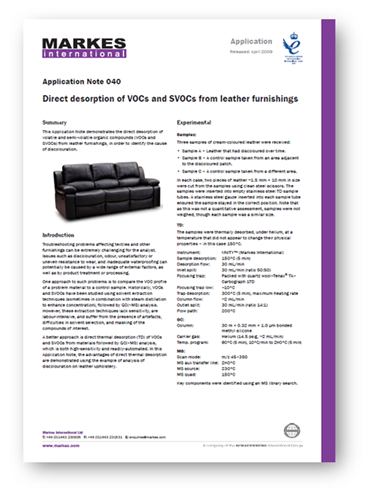 Troubleshooting problems affecting textiles and other furnishings, such as odour, can be extremely challenging for the analyst.
One approach is to compare the VOC profile of a problem material to a control sample. Historically, VOCs and SVOCs have been studied using solvent extraction techniques (sometimes in combination with steam distillation to enhance concentration), followed by GC(–MS) analysis. However, these techniques lack sensitivity, are labour-intensive, and suffer from the presence of artefacts, difficulties in solvent selection, and masking of the compounds of interest. A better approach is direct thermal desorption (TD) of VOCs and SVOCs from materials followed by GC(–MS) analysis, which is both high-sensitivity and readily-automated.
In this application note, the advantages of direct TD are demonstrated.
Please complete the form below to download the full application note