The use of TD–GC(MS) in flavour and fragrance profiling
Application Note 052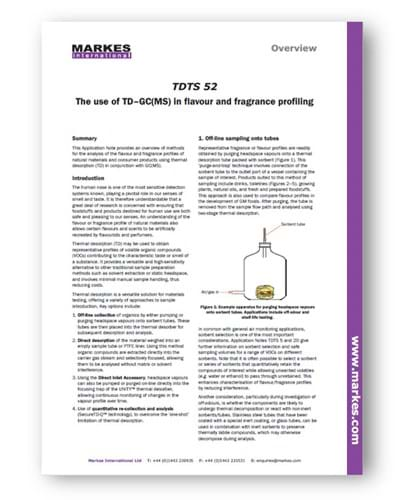 A great deal of research is concerned with ensuring that foodstuffs and products destined for human use are pleasing to our senses. Understanding the flavour or fragrance profile of natural materials also allows flavours and scents to be artificially recreated.
Thermal desorption (TD) may be used to obtain representative profiles of volatile organic compounds (VOCs) contributing to the taste or smell of a substance. It provides a high-sensitivity alternative to other traditional sample preparation methods such as solvent extraction.
This application note provides an overview of methods for the analysis of the flavour and fragrance profiles of natural materials and consumer products using TD in conjunction with GC–MS.
Please complete the form below to download the full application note