Direct desorption of car trim materials for VOC and SVOC analysis in accordance with VDA Method 278
Application Note 059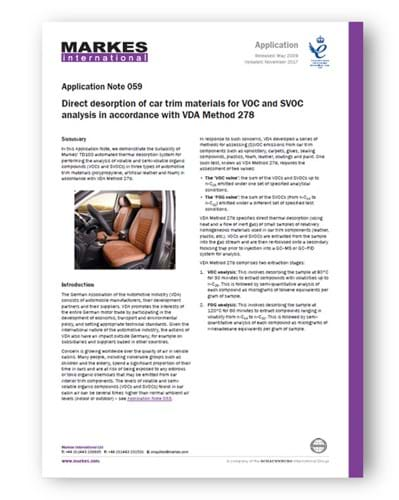 Many people spend a significant proportion of their time in cars and are at risk of being exposed to any odorous or toxic organic chemicals that may be emitted from car interior trim components. The levels of volatile and semi-volatile organic compounds (VOCs and SVOCs) found in car cabin air can be several times higher than normal ambient air levels (indoor or outdoor).
In response, the VDA (German Association of the Automotive Industry) developed methods for assessing (S)VOC emissions from car trim components.
In this application note, we demonstrate the suitability of Markes' TD100 automated thermal desorption system for performing the analysis of VOCs and SVOCs in automotive trim materials in accordance with VDA Method 278.
Please complete the form below to download the full application note