Automating measurement of VOCs and SVOCs in products and materials using direct thermal desorption–GC–MS
Application Note 065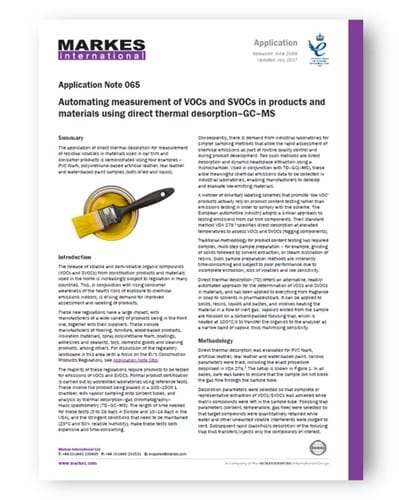 The release of volatile and semi-volatile organic compounds (VOCs and SVOCs) from construction products and materials used in the home is increasingly subject to regulation in many countries. These regulations have a large impact, with manufacturers of a wide variety of products being in the front line, together with their suppliers.
The majority of these regulations require products to be tested for emissions of VOCs and SVOCs.
In this application note, the application of direct thermal desorption for measurement of residual volatiles in materials used in car trim and consumer products is demonstrated using four examples – PVC foam, polyurethane-based artificial leather, real leather and water-based paint samples (both dried and liquid).
Please complete the form below to download the full application note