Correlation of emission rates determined using the Micro-Chamber/Thermal Extractor with those for conventional emissions-chamber tests
Application Note 069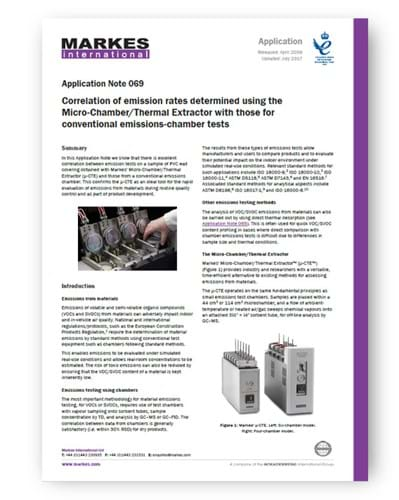 Emissions of volatile and semi-volatile organic compounds (VOCs and SVOCs) from materials can adversely impact indoor air quality. Regulations require the determination of material emissions by standard methods using conventional test equipment such as chambers following standard methods.
This enables emissions to be evaluated under simulated real-use conditions and allows real-room concentrations to be estimated. The risk of toxic emissions can also be reduced by ensuring that the VOC/SVOC content of a material is kept inherently low.
In this application note we show that there is excellent correlation between emission tests on a sample of PVC wall covering obtained with Markes' Micro-Chamber/Thermal Extractor™ (µ-CTE™) and those from a conventional emissions chamber.
Please complete the form below to download the full application note