The performance of a microchamber device for screening chemical emissions from indoor construction products
Application Note 073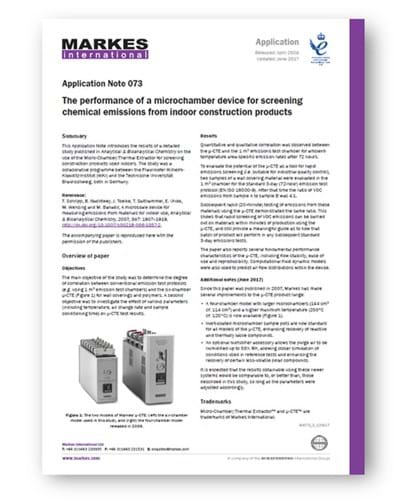 This application note introduces the results of a detailed study published in Analytical & Bioanalytical Chemistry on the use of the Micro-Chamber/Thermal Extractor™ (µ-CTE™) for screening construction products used indoors.
The main objective of the study was to determine the degree of correlation between conventional emission test protocols (e.g. using 1 m3 emission test chambers) and the six-chamber µ-CTE for wall coverings and polymers. A second objective was to investigate the effect of various parameters (including temperature, air change rate and sample conditioning time) on µ-CTE test results.
The study was a collaborative programme between the Fraunhofer WilhelmKlauditz-Institut (WKI) and the Technische Universität Braunschweig.
Please complete the form below to download the full application note