Continuous on-line monitoring of hazardous air pollutants by TD–GC–FID
Application Note 106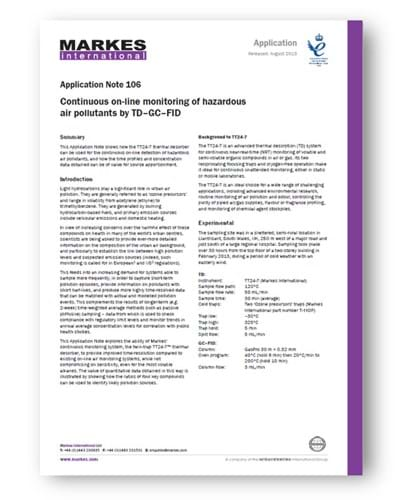 Light hydrocarbons play a significant role in urban air pollution. They are generally referred to as 'ozone precursors' and range in volatility from acetylene (ethyne) to trimethylbenzene. They are generated by burning hydrocarbon-based fuels and primary emission sources include vehicular emissions.
In view of increasing concerns over the harmful effect of these compounds on health, scientists are being asked to provide detailed information on the composition of the urban air background.
This application note shows how the TT24-7™ thermal desorber can be used for the continuous on-line detection of hazardous air pollutants and how the time profiles and concentration data obtained can be of value for source apportionment.
Please complete the form below to download the full application note