Rapid profiling of VOCs and SVOCs in e-cigarette vapours for regulatory compliance and quality control
Application Note 118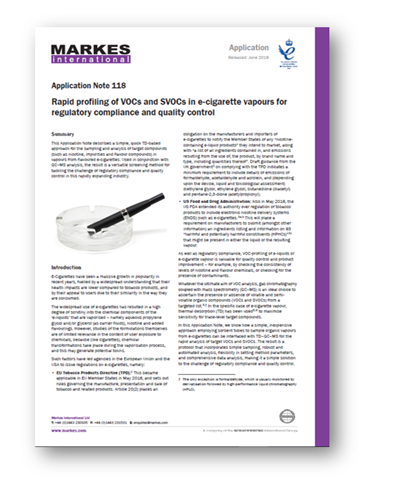 The widespread use of e-cigarettes has resulted in a high degree of scrutiny into the chemical components of the 'e-liquids' that are vaporised. Agencies in the European Union and the USA have issued regulations on e-cigarettes.
As well as regulatory compliance, VOC profiling of e-liquids or e-cigarette vapour is valuable for quality control and product improvement – for example, by checking the consistency of levels of nicotine and flavour chemicals, or checking for the presence of contaminants.
This application note describes a simple and quick thermal-desorption-based approach for the sampling and analysis of target compounds (such as nicotine, impurities and flavour compounds) in vapours from flavoured e-cigarettes.
Please complete the form below to download the full application note