A robust TD–GC–MS method for the determination of trace-level phthalate esters in air – Method validation and field study
Application Note 138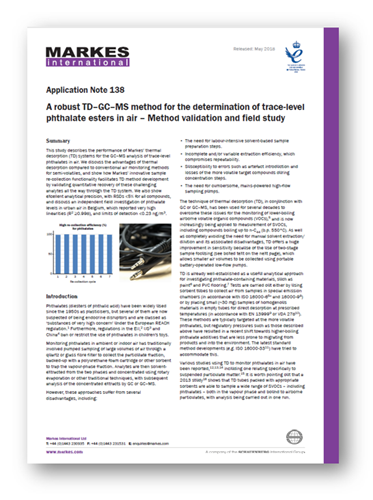 Phthalates (diesters of phthalic acid) have been widely used since the 1950s as plasticisers, but several of them are now suspected of being endocrine disruptors and are classed as 'substances of very high concern' under the European REACH regulation. Furthermore, regulations in the EU, US and China ban or restrict the use of phthalates in children's toys.
This application note describes the performance of Markes' thermal desorption systems for the GC–MS analysis of trace-level phthalates in air.
We discuss the advantages of thermal desorption compared to conventional air monitoring methods for semi-volatiles and show how Markes' innovative sample re-collection functionality facilitates TD method development by validating quantitative recovery of these challenging analytes all the way through the TD system.
Please complete the form below to download the full application note