High-performance analysis of polycyclic aromatic hydrocarbons (PAHs) by TD–GC–MS: Method validation and case-study
Application Note 139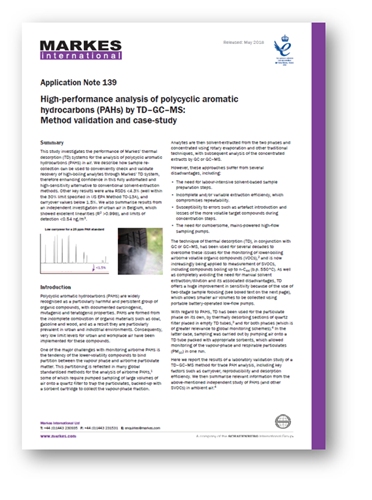 Polycyclic aromatic hydrocarbons (PAHs) are recognised as a particularly harmful and persistent group of organic compounds, with documented carcinogenic, mutagenic and teratogenic properties. PAHs are formed from the incomplete combustion of organic materials such as coal, gasoline and wood, and they are prevalent in urban and industrial environments.
This application note investigates the performance of Markes' thermal desorption systems for the analysis of polycyclic aromatic hydrocarbons in air.
We describe how sample re-collection can be used to conveniently check and validate recovery of high-boiling analytes through Markes' TD system, therefore enhancing confidence in this fully automated and high-sensitivity alternative to conventional solvent extraction methods.
Please complete the form below to download the full application note