Analysis of VOC and FOG emissions from automotive interior materials by direct desorption TD–GC–MS in accordance with VDA 278
Application Note 141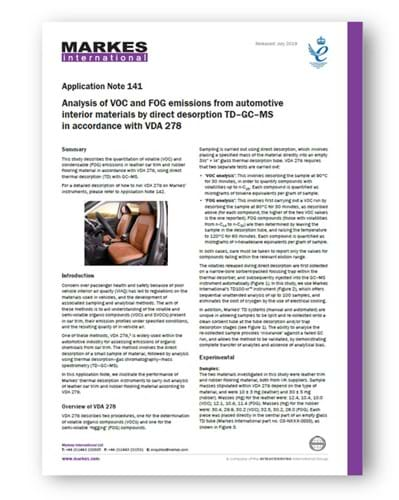 Concern over health and safety because of poor vehicle interior air quality (VIAQ) has led to regulations on the materials used in vehicles, and the development of associated sampling and analytical methods. The aim of these methods is to aid understanding of the volatile and semi-volatile organic compounds (VOCs and SVOCs) present in car trim, their emission profiles under specified conditions, and the resulting quality of in-vehicle air.
One method, VDA 278, is used within the automotive industry for assessing emissions of organic chemicals from car trim.
This study describes the quantitation of volatile (VOC) and condensable (FOG) emissions in leather car trim and rubber flooring in accordance with VDA 278, using direct thermal desorption (TD) with GC–MS.
Please complete the form below to download the full application note