A technical guide to the analysis of VOC and FOG emissions from automotive interior materials by direct desorption TD–GC–MS in accordance with VDA 278
Application Note 142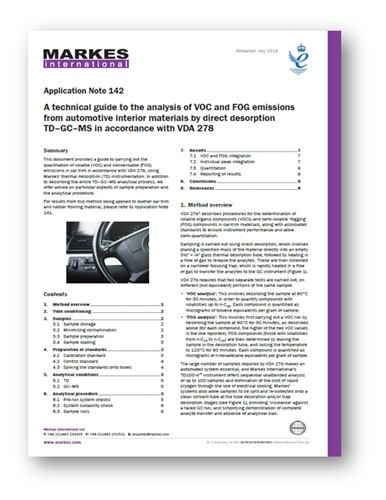 VDA 278 describes procedures for the determination of volatile organic compounds (VOCs) and semi-volatile 'fogging' (FOG) compounds in car-trim materials, along with associated standards to ensure instrument performance and allow semi-quantitation.
This document provides a guide to carrying out the quantitation of volatile (VOC) and condensable (FOG) emissions in car trim in accordance with VDA 278, using Markes' thermal desorption (TD) instrumentation.
In addition to describing the entire TD–GC–MS analytical process, we offer advice on particular aspects of sample preparation and the analytical procedure.
Please complete the form below to download the full application note