Breath sampling for clinical research and occupational health monitoring
Application Note 147
Breath provides a window into the health of the human body, and analysing the volatile organic compounds (VOCs) it contains can provide information on topics as diverse as the diagnosis of disease, the monitoring of metabolic stress, and exposure to toxic chemicals.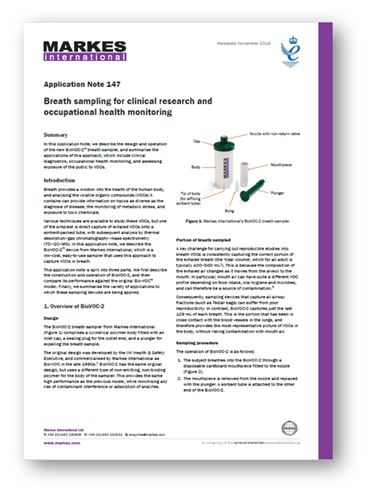 Various techniques are available to study these VOCs, but one of the simplest is direct capture of exhaled VOCs onto a sorbent-packed tube, with subsequent analysis by thermal desorption–gas chromatography–mass spectrometry (TD–GC–MS).
In this application note, we describe the BioVOC-2™ device from Markes International, which is a low-cost, easy-to-use sampler that uses this approach to capture VOCs in breath. First, we describe the construction and operation of BioVOC-2, and then compare its performance against the original Bio-VOC™ model. Finally, we summarise the variety of applications to which these sampling devices are being applied.
Please complete the form below to download the full application note