A scalable TD–GC–MS approach for the discovery of breath biomarkers of malaria
Application Note 148
Malaria (Plasmodium falciparum) was responsible for an estimated 435,000 deaths worldwide in 2017, and the need for timely and accurate detection has never been greater.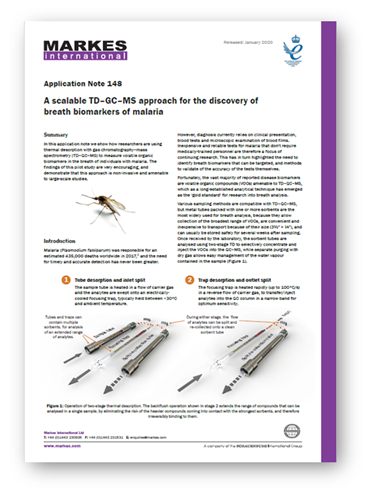 Fortunately, the vast majority of reported disease biomarkers are volatile organic compounds (VOCs) amenable to TD–GC–MS, which as a long-established analytical technique has emerged as the 'gold standard' for research into breath analysis.
In this application note we show how researchers are using thermal desorption with gas chromatography–mass spectrometry (TD–GC–MS) to measure volatile organic biomarkers in the breath of individuals with malaria. The findings of this pilot study are very encouraging, and demonstrate that this approach is non-invasive and amenable to large-scale studies.
Please complete the form below to download the full application note