Using hydrogen carrier gas to enhance TD–GC–MS methods for semi-volatile organic compounds (SVOCs) in air: an illustration with polyaromatic hydrocarbons (PAHs)
Application Note 156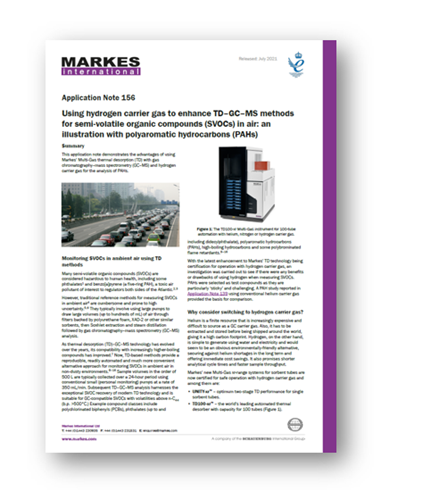 This application note demonstrates the advantages of using Markes' Multi-Gas thermal desorption (TD) with gas chromatography–mass spectrometry (GC–MS) and hydrogen carrier gas for the analysis of PAHs.
TD-based methods provide a reproducible, readily automated and convenient approach for monitoring SVOCs such as PAHs in ambient air in non-dusty environments. 
With the latest enhancement to Markes' TD technology being certification for operation with hydrogen carrier gas, an investigation was carried out to see if there were any benefits or drawbacks of using hydrogen when measuring SVOCs. 
Please complete the form below to download the full application note