Measurement of PFAS in indoor air and investigation of source materials
Application Note 167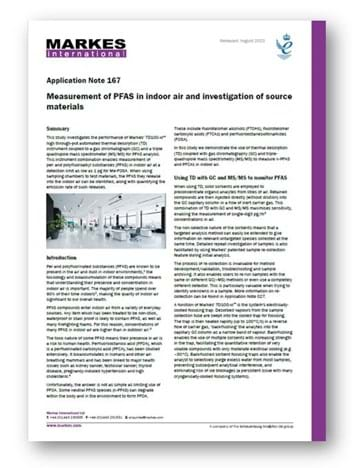 This study investigates the performance of Markes' TD100-xr™ high through-put automated thermal desorption (TD) instrument coupled to a gas chromatograph (GC) and a triple quadrupole mass spectrometer (MS/MS) for PFAS analysis.
This instrument combination enables measurement of per- and polyfluoroalkyl substances (PFAS) in indoor air at a detection limit as low as 1 pg for Me-FOSA. When using sampling chambers to test materials, the PFAS they release into the indoor air can be identified, along with quantifying the emission rate of such releases.
Further information on PFAS analysis
More information on PFAS and their analysis using thermal desorption coupled with GC–MS can be found here.
Please complete the form below to download the full application note