Analysis of volatile organic pollutants in water using headspace–trap GC–MS: Improving on US EPA Method 524.2
Application Note 253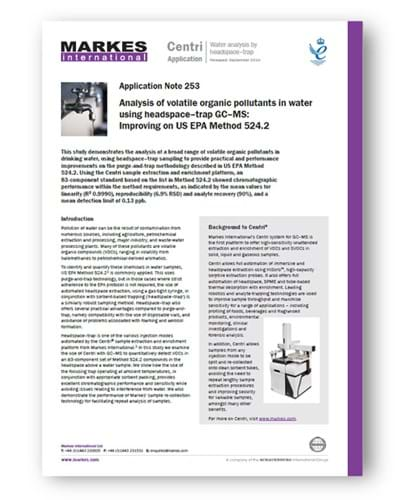 Pollution of water can be the result of contamination from numerous sources, including agriculture, petrochemical extraction and processing, major industry, and waste-water processing plants. Many of these pollutants are volatile organic compounds (VOCs), ranging in volatility from halomethanes to petrochemical-derived aromatics.
To identify and quantify these chemicals in water samples, US EPA Method 524.21 is commonly applied.
This application note demonstrates the analysis of a broad range of volatile organic pollutants in drinking water, using headspace–trap sampling to provide practical and performance improvements on the purge-and-trap methodology described in US EPA Method 524.2.
Please complete the form below to download the full application note