Comprehensive VOC profiling of meat using dynamic headspace and automated TD–GC–MS analysis
Application Note 262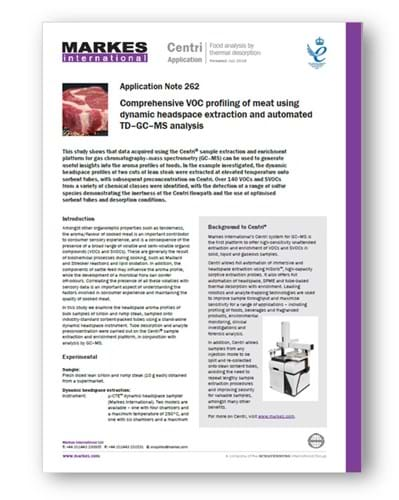 The aroma/flavour of cooked meat is an important contributor to consumer sensory experience, and is a consequence of the presence of a broad range of volatile and semi-volatile organic compounds (VOCs and SVOCs).
Cattle feed components may also influence the aroma profile, while the development of a microbial flora can confer off-odours. Correlating the presence of all these volatiles with sensory data is an important aspect of understanding the factors involved in consumer experience. 
This study shows that data acquired using the Centri® sample extraction and enrichment platform for gas chromatography–mass spectrometry (GC–MS) can be used to generate useful insights into the aroma profiles of foods.
Please complete the form below to download the full application note