Enhanced fragrance profiling of shampoo using automated immersive high-capacity sorptive extraction with GC–MS
Application Note 265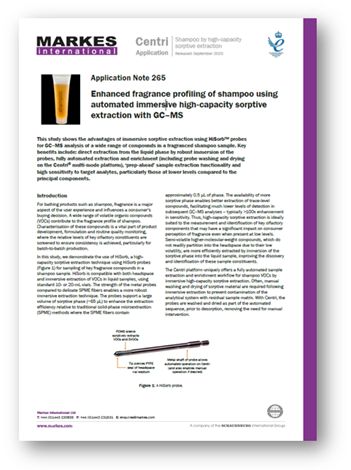 This study shows the advantages of immersive sorptive extraction using HiSorb™ probes for GC–MS analysis of a wide range of compounds in a fragranced shampoo sample.
Characterisation of these compounds is a vital part of product development, formulation and routine quality monitoring, where the relative levels of key olfactory constituents are screened to ensure consistency is achieved, particularly for batch-to-batch production.
Key benefits include: direct extraction from the liquid phase by robust immersion of the probes, fully automated extraction and enrichment (including probe washing and drying on the Centri® multi-mode platform), 'prep-ahead' sample extraction functionality and high sensitivity to target analytes, particularly those at lower levels compared to the principal components.
Please complete the form below to download the full application note