Enhanced olive oil aroma profiling by solid-phase microextraction (SPME) using the novel approach of multi-step enrichment (MSE)
Application Note 274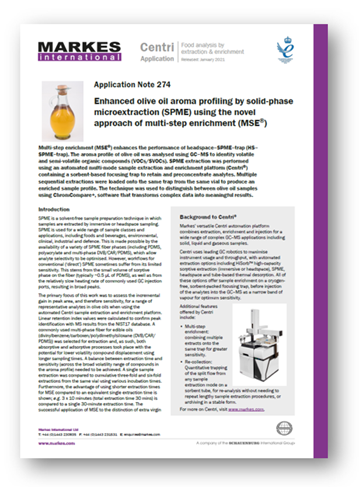 Multi-step enrichment (MSE®) enhances the performance of headspace–SPME–trap (HS– SPME–trap).
The aroma profile of olive oil was analysed using GC–MS to identify volatile and semi-volatile organic compounds (VOCs/SVOCs).
SPME extraction was performed using an automated multi-mode sample extraction and enrichment platform (Centri®) containing a sorbent-based focusing trap to retain and preconcentrate analytes.
Multiple sequential extractions were loaded onto the same trap from the same vial to produce an enriched sample profile.
The technique was used to distinguish between olive oil samples using ChromCompare+, software that transforms complex data into meaningful results.
Please complete the form below to download the full application note