Evaluation of new high-capacity sorptive extraction (HiSorb™) phases for flavour profiling of hard seltzers
Application Note 277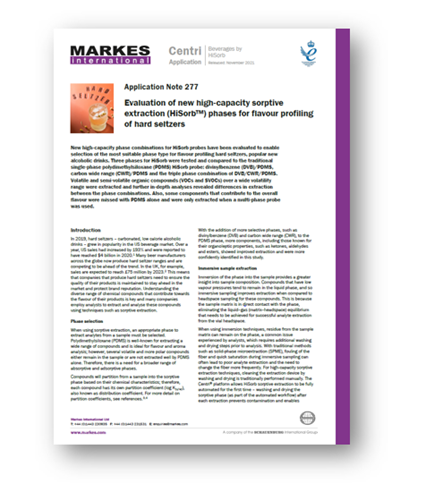 New high-capacity phase combinations for HiSorb probes were evaluated to enable selection of the most suitable phase type for flavour profiling hard seltzers.
Three phases were compared to the traditional single-phase polydimethylsiloxane (PDMS) HiSorb probe: divinylbenzene (DVB)/PDMS, carbon wide range (CWR)/PDMS and the triple phase combination of DVB/CWR/PDMS.
Volatile and semi-volatile organic compounds over a wide volatility range were extracted and in-depth analyses revealed differences in extraction between the phase combinations.
Please complete the form below to download the full application note