Analysis of volatile organic pollutants in water using headspace–trap GC–MS: Maximizing performance for ppt-level VOCs
LCGC: The Column, September 2022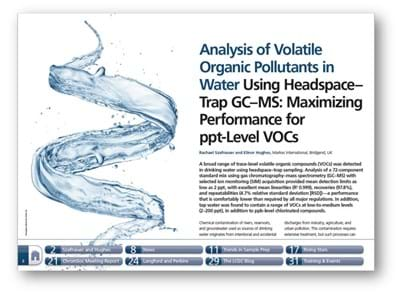 A broad range of trace-level volatile organic compounds (VOCs) was detected in drinking water using headspace–trap sampling.
Analysis of a 72-component standard mix using gas chromatography–mass spectrometry (GC–MS) with selected ion monitoring (SIM) acquisition provided mean detection limits as low as 2 ppt, with excellent mean linearities (R2 0.999), recoveries (97.8%), and repeatabilities (4.7% relative standard deviation [RSD])—a performance that is comfortably lower than required by all major regulations.
In addition, tap water was found to contain a range of VOCs at low-to-medium levels (2–200 ppt), in addition to ppb-level chlorinated compounds.