Extending the compatible analyte volatility range for indoor air quality and material emissions testing using multi-bed thermal desorption tubes
LCGC: The Column, March 2015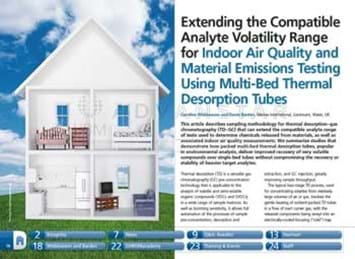 This article compares the performance of multi-bed and single-bed sorbent tubes for indoor air quality and material emissions testing.
Improvement of multi-bed tubes 
The article summarises two peer-reviewed studies that demonstrate how multi-bed tubes give improved recovery of very volatile compounds compared to single-bed Tenax® tubes, without compromising the recovery or stability of heavier target analytes.
Widdowson and Barden say that although such multi-bed tubes are popular in environmental analysis, methods for material emissions testing have traditionally targeted relatively narrow analyte ranges. However, this is now changing, with a recent revision of a key international standard method including the option to use multi-bed sorbent tubes.