Going beyond the requirements of US EPA Method TO-15: Cryogen-free monitoring of trace-level "air toxics" at high humidity
LCGC: The Column, October 2017
This article demonstrates the suitability of a combined autosampler–TD–GC–MS system to sample, pre-concentrate and detect a range of air toxics in humid air collected in canisters.
Trap-based water removal device to eliminate humidity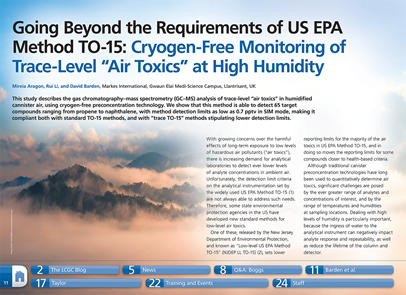 A key feature of the system is the use of the Kori-xr trap-based water removal device to eliminate humidity from the air sample, making it possible to detect 65 target compounds ranging from propene to naphthalene, with method detection limits as low as 0.7 pptv in SIM mode. Importantly, ultra-volatiles and polar species are unaffected by the water removal process, which stands in contrast to conventional approaches such as Nafion® dryers and trap dry-purging.
The authors also point out that the performance of the system makes it compliant both with standard TO-15 methods, and with 'trace TO-15' methods stipulating lower detection limits.