Sampling volatiles from fragranced consumer products using high-capacity sorptive extraction
LCGC: The Column, January 2018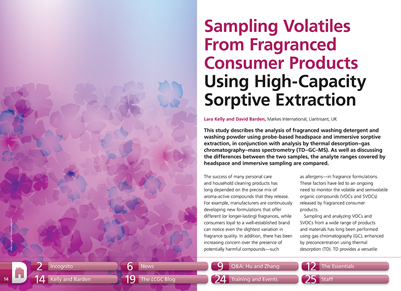 This article describes how Markes' sampling and analysis technology can be used to profile VOCs and SVOCs emitted by fragranced consumer products.
The study describes the analysis of liquid washing detergent and washing powder using Markes' high-capacity HiSorb™ probes to achieve headspace and immersive sorptive extraction, in conjunction with analysis by TD–GC–MS.
As well as discussing the differences between the two samples, the authors compare the analyte ranges covered by the two modes of sampling, and discuss how this enables complementary profiles to be generated.