A record-breaking thermal desorption system comes home to Markes
9 October, 2018
Dr Swaraj Paul and his 19-year-old UNITY 1
On 8 October, we were delighted to welcome a special visitor to our UK Service Department in Llantrisant – Dr Swaraj Paul, founder of PP Polymer, based near Stockholm, Sweden. As well as wanting to see the latest instruments in our demo lab, Dr Paul had a more unusual reason for visiting us – to bring along for a quick service his 19-year-old UNITY 1!
A long-lived thermal desorption unit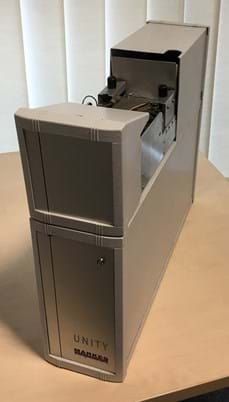 The instrument (pictured right) is a piece of Markes history, being the ninth TD unit Markes ever made, and sold to him in 1999 by our co-founder Elizabeth Woolfenden.
Perhaps its design doesn't quite compare to the sleek lines of our new UNITY-xr, but of course what matters most is how well it works, and Dr Paul was pleased to report that his instrument is still going strong!
Dr Paul told us that the team at PP Polymers use their UNITY to analyse small samples of polymer, by desorbing them directly within a TD tube, and analysing the vapours using GC–MS.
The results they obtain provide information on the composition of the polymer, which they use to help their clients control product quality and improve consumer safety.
Correlation to thermogravimetric analysis
Dr Paul said that the simplicity of direct desorption and the straightforward controls of the UNITY allow them to generate reliable data on VOC emissions, which is easy to correlate to the results of one of the other methods they use, thermogravimetric analysis (TGA). This stands in contrast to other more error-prone methods such as solvent extraction, which he said are still widely used in the field of polymer analysis.
The UNITY was given a check-over to resolve a leak by Arfon Jones, one of our service team. Afterwards, Arfon commented "Although our UNITY 1 thermal desorbers are now discontinued, we still have a considerable number of people out there for whom the instrument does precisely the job it needs to, day-in, day-out. It was a great pleasure to meet such a long-standing customer, and of course to personally service the oldest Markes thermal desorber still in use!".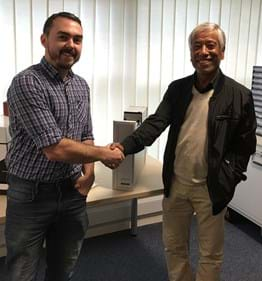 Service Engineer Arfon Jones (left) and Dr Swaraj Paul (right) shaking hands on the next 19 years of successful instrument operation!