From carnivorous plants to cancer research: An exciting day of TD–GC training at Kew Gardens
25 October, 2018
TD-GC training at Kew Gardens 
On 4 October, we did what is proving to be an increasingly popular format: a one-day seminar with a mixture of product-focused and application-focused content. This one was held at Kew Gardens in London, UK, renowned worldwide as a centre of excellence for plant research and education.
Choosing the best sample preparation technique for GC
The first speaker was Diane Turner, Founding Director of Anthias Consulting, a UK-based company providing training and technical support to analytical labs all across the UK. Diane's presentation focused on the diversity of sample preparation techniques that are now available for GC, and a key message was that there is no single 'recipe' for sample prep. Rather, the best choice depends on a range of factors including the matrix, analytes, and most importantly the physicochemical principles of each technique. As such, the presentation was an excellent foundation for the applications that were to follow.
Solid, liquid or gas? A new sample prep platform
One of Markes' Application Specialists, Rachael Szafnauer, was up next, examining the techniques that are available with Centri, our new platform for sample concentration and automation. She highlighted how the system successfully marries thermal desorption with sample-prep robotics, enabling exciting options such as automated high-capacity sorptive extraction, trap-based refocusing of SPME and headspace samples, and sample re-collection for all analytical modes.
Overcoming the 'one-shot' limitation for sampling rare plant volatiles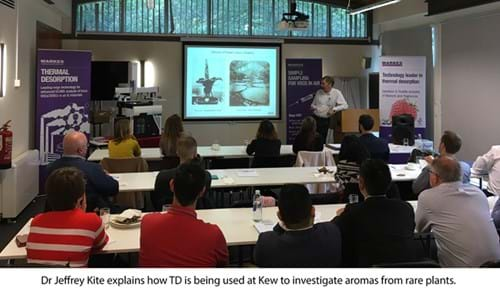 Although many people quite rig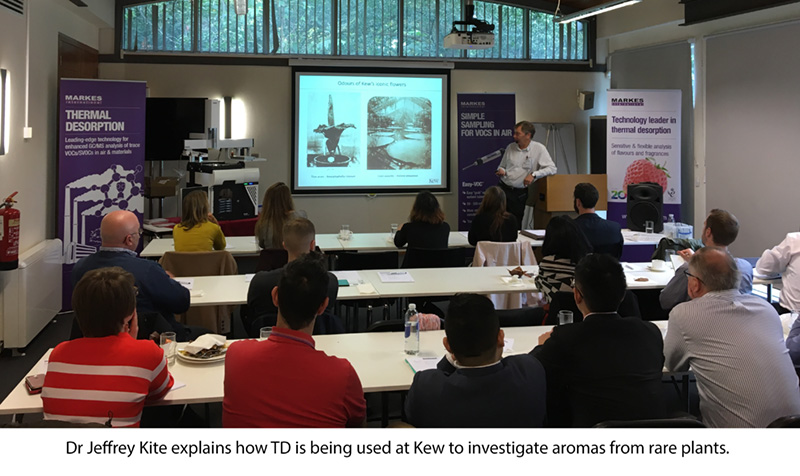 htly associate thermal desorption with environmental monitoring, the scientific literature is packed with examples of unusual and interesting applications of the technique. One such application was provided by Dr Jeffrey Kite, who is the head of the biochemistry lab at Kew, and where he uses a variety of analytical techniques to study plants and seeds.
Jeffrey's talk described how TD can be used to capture the unique VOC profiles of exotic plants, and in particular the Titan Arum (Amorphophallus titanus), a rare plant from South-East Asia with the smell of a rotten carcass! Since the 1980s, Kew's specimen of this plant has flowered only three times, which meant that opportunity to sample its aroma is very limited. As Jeffrey put it: "Either you take your life in your hands, or you use re-collection!"… referring of course to the ability of our instruments to send the split portion of a run to a clean TD tube, for later re-analysis.
Sorptive extraction to aid non-invasive cancer diagnosis
Next, Dr Sung Tong Chin from Imperial College London talked about how TD can help in the development of non-invasive ways of diagnosing cancer. Specifically, he described the headspace sampling of urine from oesophago-gastric cancer patients and controls, using our HiSorb sorptive extraction probes, followed by TD–GC–MS.
Encouragingly, Sung Tong said that results of a pilot study showed a 90% diagnostic accuracy in discriminating patients from healthy controls, and have the potential to assist in the diagnosis of a cancer with one of the worst mortality rates in the UK. The Imperial College team was one of the first research groups to include HiSorb within their analytical workflow, and of course Centri now offers HiSorb analysis in completely automated mode.
What applications can Centri be used for?
inally, on the subject of Centri, I gave a quick presentation at the end of the day that summarised the capabilities of the Centri platform.
From air pollution to breath analysis, and water odorants to food packaging, Centri is proving to be a highly versatile platform, so the only challenge was fitting everything into the time slot.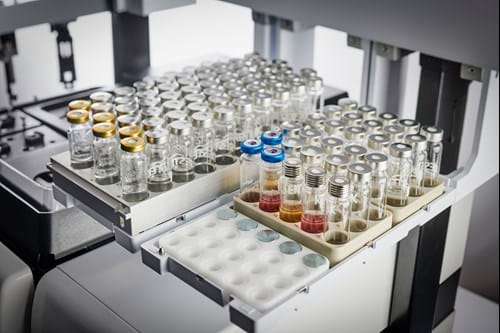 A great learning experience
All in all, the Kew Gardens seminar was undoubtedly a success, and with the event being fully booked less than one hour after the announcement of the programme, we even had to repeat the presentations on 5 October! The audience included students, scientists and lab managers from academia and industry, with a diversity of application interests. Naturally, we're extremely grateful to all the presenters and attendees for their enthusiastic participation, and are now looking forward to doing something similar in other locations.