Why are Markes' thermal desorption sorbent tubes better than those from other suppliers?
11 April 2023
Sorbent-packed 3½″ × ¼″ sampling tubes are the main way of collecting samples for analysis by thermal desorption. Naturally, there are several vendors of sorbent tubes, with a variety of reasons to buy, ranging from product quality to cost and speed of delivery. In this blog post, we discuss what separates Markes from other sorbent tube suppliers, and explain why you might consider switching.
Sampling is considered by many to be the most important stage in the analytical process. You can have the most sensitive instrument, the latest software and a beautifully developed analytical method, but if your sample collection isn't optimised, what trust can you have in your results?
For us, fail-safe sampling starts with the quality of the product. True, you may have saved some money by going for a cheaper brand, but does that benefit really stack up if the product doesn't deliver the performance you want? However, 'product quality' can be a bit of a nebulous term, so let's unpack what we're talking about, starting with the cleanliness of the tubes.
Factor 1: Tube cleanliness
If sorbent tubes aren't sufficiently clean, then background from the tube will appear in the chromatograms, so using clean sorbent tubes makes it easier to qualify and quantify compounds of interest. This is becoming increasingly important as standard methods push for ever lower method detection limits, in application areas ranging from breath monitoring for disease biomarkers to tackling priority pollutants in air.
So one aspect of product quality should always be cleanliness, and for peace of mind in that regard, it's good to know that our pre-conditioned sorbent tubes are quality-checked before shipping. To illustrate what this means, in the three graphs below we've compared the average background for 10 of our pre-conditioned sorbent tubes with the same number of tubes from two other suppliers, following two successive desorptions under identical conditions (Supplier 2 didn't offer tubes equivalent to our 'Air Toxics' and 'Universal' tubes, so we couldn't make the comparison for those).   
In each instance, our sorbent tubes had significantly lower background for the first and second desorptions. And in fact in some cases the second desorption of the non-Markes tubes was barely below the level of the first desorption of ours – providing a clear demonstration of the difference that tube cleanliness can make.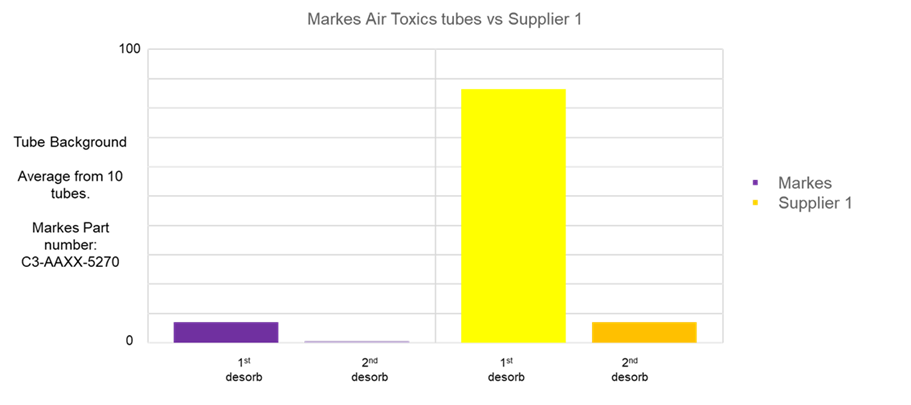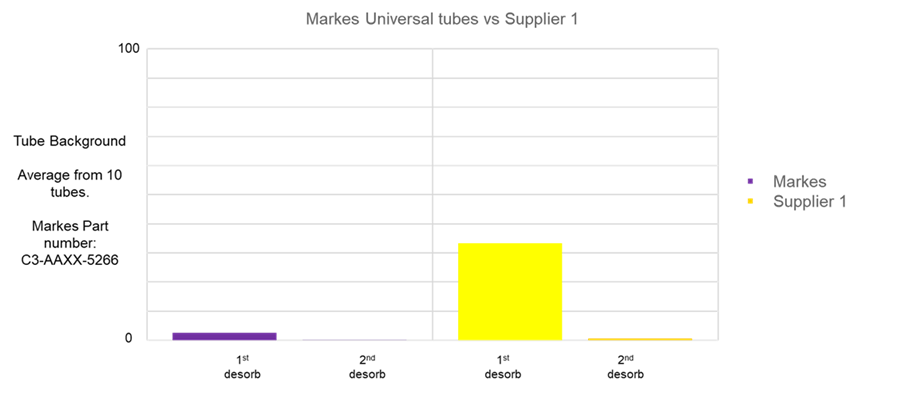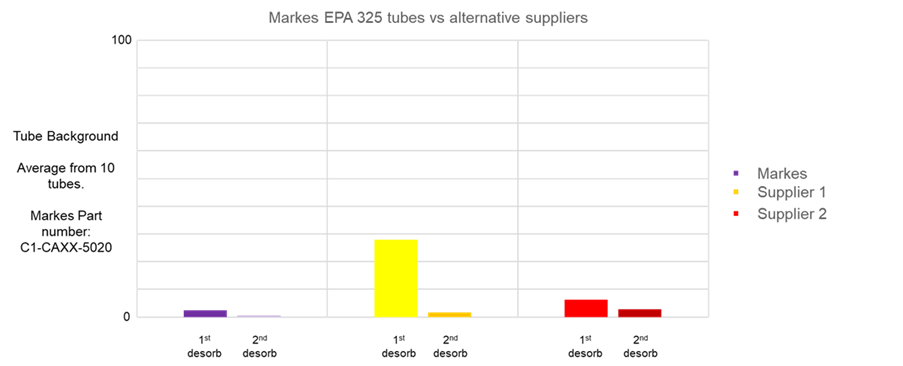 Factor 2: Selecting the right sorbent tube
Another aspect of product quality is making sure you've got the best possible tube for the job. We're constantly working with customers and collaborators to understand emerging trends within the analytical thermal desorption market, and a large part of that is finding the correct sorbent combinations for a particular sampling challenge. As well as having access to the widest possible types of sorbent, we've designed a range of method-compliant, application-specific and general-use sorbent tubes. And with nearly 25 years' experience in the thermal desorption field, we're in a great position to help you develop custom recipes should the need arise.
But beyond the sorbent recipe, what we offer our customers is technical experience and knowledge of the whole thermal desorption process. Unlike other manufacturers, we pair our tubes with a suitable, validated sorbent-packed focusing trap, to ensure the analysis works as a whole, not just in parts. And, for many methods, our large library of application notes can be used as a starting point for method development.
Factor 3: Product consistency
And last but not least, product quality should mean consistency in the product from batch to batch, so if you buy some tubes one year, you can be sure you'll get the same performance as you had with a shipment the previous year.
So it's good to know that our sorbent tube manufacturing process operates under stringent quality controls, with tubes packed to a minimum tolerance of ±2.5% by weight. Each tube is put through rigorous physical tests prior to shipping, and pre-conditioned tubes are chromatographically tested before they leave the factory. So at every stage before our tubes reach you, our aim is to give you a high-quality product that you can rely on, time and time again.
Making the switch to Markes' sorbent tubes
There you have it – three aspects that together define what 'product quality' looks like for a sorbent tube, and which will go a long way to ensuring your sampling doesn't let you down.
So the next time you're looking to replace a batch of sorbent tubes that reached the end of its lifetime, it's worth considering if your current supplier does everything we've listed – and if not, then you've got three good reasons to switch to Markes. And as an added incentive, as part of our tube replacement scheme, we'll give you a discount on new (like-for-like) stainless steel and inert-coated stainless steel tubes, if you send us your old ones.
So there's never been a better time to evaluate our sorbent tubes for yourself – and see what difference some genuine product quality can really make to your analysis.
Interested? Contact enquiries@markes.com or SampleTech@markes.com to discuss your sorbent tube returns.