BioVOC-2
Single-use breath sampling device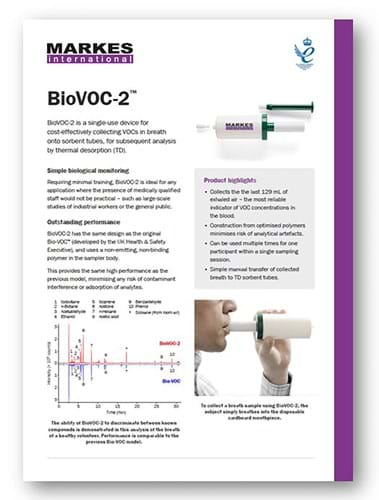 BioVOC-2™ is a single-use device for cost-effectively collecting VOCs in breath onto sorbent tubes, for subsequent analysis by thermal desorption (TD).
Requiring minimal training, BioVOC-2 is ideal for any application where the presence of medically qualified staff would not be practical – such as large-scale studies of industrial workers or the general public.
BioVOC-2 has the same design as the original Bio-VOC™ (developed by the UK Health & Safety Executive), and uses a non-emitting, non-binding polymer in the sampler body. This provides the same high performance as the previous model, minimising any risk of contaminant interference or adsorption of analytes.
Please complete the form below to download your copy of the brochure.