Centri
A breakthrough in sample automation and concentration for GC–MS
Introducing the Centri® portfolio of automated sample preparation, extraction and concentration platforms for GC and GC–MS.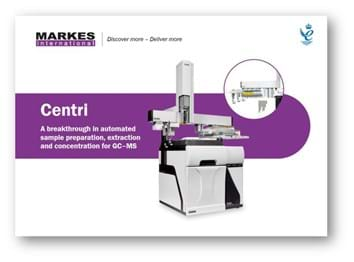 Innovation lies at the heart of every Centri instrument, with Markes' advanced cryogen-free focusing trap technology to optimise analytical sensitivity, and enhance the quality and quantity of information obtained from GC–MS analyses.
Best-in-class robotic automation provides unrivalled flexibility for unattended, rapid and efficient extraction and preconcentration of VOCs and SVOCs from liquid, solid and gaseous samples.
Compatible with all major brands of GC/GC–MS, Centri systems offer expanded application capabilities to differentiate your lab:
100× sensitivity enhancement compared to conventional headspace and SPME methods.
Versatile water management.
Selective elimination of volatile interferences.
More representative chromatographic profiles covering a broader volatility range.
The option of robust sorptive probes for immersive extraction.
Please complete the form below to download your copy of the brochure