Easy-VOC
Manual grab-sampling pump for thermal desorption tubes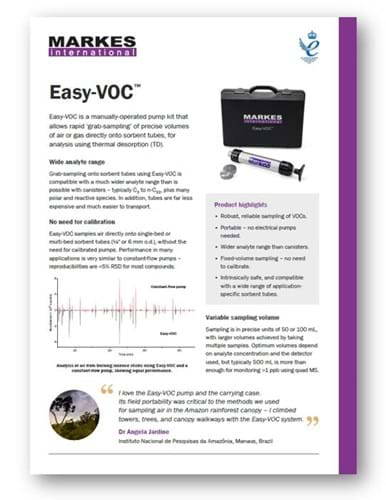 Easy-VOC is a manually-operated pump kit that allows rapid 'grab-sampling' of precise volumes of air or gas directly onto sorbent tubes, for analysis using thermal desorption (TD).

Grab-sampling onto sorbent tubes using Easy-VOC is compatible with a much wider analyte range than is possible with canisters – typically C3 to n-C32, plus many polar and reactive species. In addition, tubes are far less expensive and much easier to transport.

Easy-VOC samples air directly onto single-bed or multi‑bed sorbent tubes (¼″ or 6 mm o.d.), without the need for calibrated pumps. Performance in many applications is very similar to constant-flow pumps – reproducibilities are <5% RSD for most compounds.
Please complete the form below to download your copy of the brochure.