Automated thermal desorber doubles productivity, and increases data precision and accuracy in air studies
University of Leicester, UK
Automated thermal desorber doubles productivity, and increases data precision and accuracy in air studies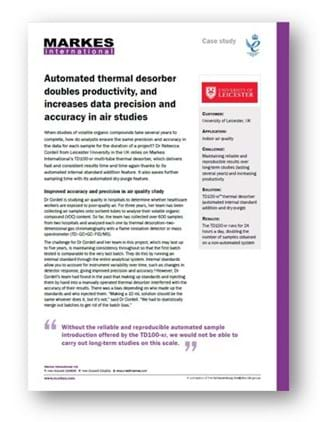 When studies of volatile organic compounds take several years to complete, how do analysts ensure the same precision and accuracy in the data for each sample for the duration of a project? Dr Rebecca Cordell from Leicester University in the UK relies on Markes International's TD100-xr multi-tube thermal desorber, which delivers fast and consistent results time and time again thanks to its automated internal standard addition feature. It also saves further sampling time with its automated dry-purge feature.
Customer: University of Leicester, UK
Application: Indoor air quality
Challenge: Maintaining reliable and reproducible results over long-term studies (lasting several years) and increasing productivity
Solution: TD100-xr™ thermal desorber (automated internal standard addition and dry-purge)
Results: The TD100-xr runs for 24 hours a day, doubling the number of samples obtained on a non-automated system
Without the reliable and reproducible automated sample introduction offered by the TD100-xr, we would not be able to carry out long-term studies on this scale.