Faster and efficient test chambers for fragrance analysis
Firmenich
Faster and efficient test chambers for fragrance analysis – Firmenich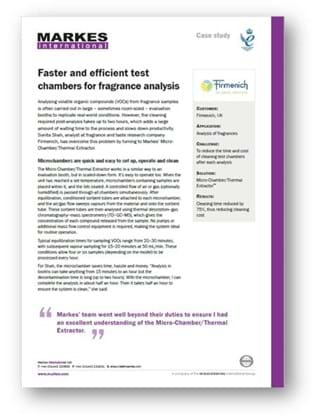 Analysing volatile organic compounds (VOCs) from fragrance samples is often carried out in large – sometimes room-sized – evaluation booths to replicate real-world conditions. However, the cleaning required post-analysis takes up to two hours, which adds a large amount of waiting time to the process and slows down productivity.
Sunita Shah, analyst at fragrance and taste research company Firmenich, has overcome this problem by turning to Markes' Micro-Chamber/Thermal Extractor.
Customer: Firmenich, UK
Application: Analysis of fragrances
Challenge: To reduce the time and cost of cleaning test chambers after each analysis
Solution: Micro-Chamber/Thermal Extractor
Results: Cleaning time reduced by 75%, thus reducing cleaning cost
Markes' team went well beyond their duties to ensure I had an excellent understanding of the Micro-Chamber/Thermal Extractor.