Studying biogenic volatile organic compounds from Arctic ecosystems
Associate Professor Riikka Rinnan, University of Copenhagen, Denmark

What sort of studies do you undertake in your research group?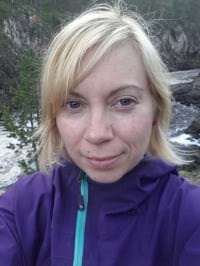 My research group studies emissions of biogenic volatile organic compounds (BVOCs) from natural ecosystems. One of our main goals is to find out how ongoing climate change will affect BVOC emissions by conducting field experiments.
In the experiments, we mimic potential future conditions by subjecting plants and ecosystems to different experimental treatments.
In recent years, our main focus has been on Arctic ecosystems, which are experiencing rapidly increasing temperatures and dramatic changes in vegetation.
How long have you been using your UNITY-ULTRA? Have you been pleased with its performance/reliability over that time?
We have been using UNITY-ULTRA for analysis of volatile organic compounds since 2011. Once set up and running, it performed very well. We've been very happy with its stability.
What unique features of the UNITY-ULTRA make it suitable for your studies?
My favourite feature in this system is the flexible autosampler. I like it that I can start a run with 100 samples, add tubes to the autosampler's racks during the run, and take out those already analysed for conditioning.
Our work in the Arctic is concentrated into the short snow-free period, when we measure in several places at the same time. The number of adsorbent tubes is the factor limiting our work, and by using the TC-20 for conditioning the tubes, we save a lot of time and are thus able to sample more.
Have you been happy with the quality of conditioned & capped tubes you've received from Markes?
Yes! We have been very happy with the packed and pre-conditioned tubes, which Markes sells for a very affordable price. Thanks to this, we've been able to purchase a large number of tubes, which is the only way for us to sample BVOCs in several remote locations.
What has been your experience of Markes' application/technical support?
Work with BVOCs is not always easy and there are many issues in sampling, calibration, and analysis that require precision. Whenever there have been any doubts or questions, Markes' technical support team has offered help – quickly and thoroughly.
Would you recommend Markes' TD systems to other customers? If so, why?
I would be happy to recommend Markes' TD systems. The products are very functional, have the right price and come with excellent technical support.
The following paper describes Professor Rinnan's work:
R. Rinnan, D. Gierth, M. Bilde, T. Rosenørn and A. Michelsen, Off-season biogenic volatile organic compound emissions from heath mesocosms: Responses to vegetation cutting, Frontiers in Microbiology, 2013, 4: 224, https://www.frontiersin.org/articles/10.3389/fmicb.2013.00224/full.