What is thermal desorption?
A guide to the history, principles and applications of thermal desorption for gas chromatography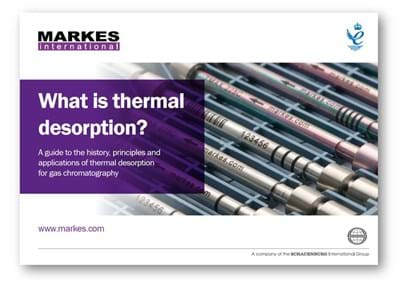 Analytical thermal desorption (TD) is a sample preparation and introduction technique for gas chromatography (GC) that overcomes the drawbacks of conventional sample preparation techniques, such as solvent extraction, solid-phase micro-extraction, purge-and-trap and static headspace. 
Advantages of thermal desorption include:
Greater sensitivity than conventional sample preparation techniques.
Applicability to a wider range of compound classes and sample types.
It is safer and more environmentally friendly than solvent extraction.
It is more easily automated and validated.
TD is compliant with key standard methods.
Key applications of thermal desorption
All this and key applications of TD are explained simply and clearly in the What is thermal desorption? e-book. In just 24 pages, this easy-to-read guide explains how TD works, along with important aspects such as sorbent choice and sampling options.
Please complete the form below to download your copy of the e-book