Using hydrogen carrier gas with a thermal desorption (TD) system
Instant Insight 007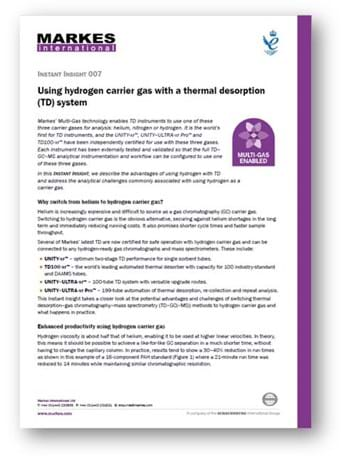 Markes' Multi-Gas technology enables TD instruments to use one of these three carrier gases for analysis: helium, nitrogen or hydrogen.
It is the world's first for TD instruments, and the UNITY-xr™, UNITY–ULTRA-xr Pro™ andTD100-xr™ have been independently certified for use with these three gases.
Each instrument has been externally tested and validated so that the full TD– GC–MS analytical instrumentation and workflow can be configured to use one of these three gases.
In this Instant InsIght, we describe the advantages of using hydrogen with TD and address the analytical challenges commonly associated with using hydrogen as a carrier gas.
Please complete the form below to download your copy of the Instant Insight