Analytical strategies for monitoring volatile impurities in hydrogen fuel supply chains using thermal desorption
First presented at Pittcon 2021
The poster entitled "Analytical strategies for monitoring volatile impurities in hydrogen fuel supply chains using thermal desorption" was presented by Markes International at Pittcon, which was held on 8–12 March 2021 as a virtual conference.
Flexible sampling for on-line or off-line monitoring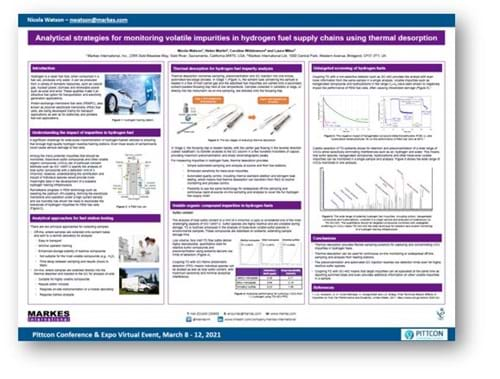 Hydrogen is an attractive option for transportation fuel. However, a challenge for wide-scale implementation of hydrogen-fuelled vehicles is ensuring that enough high-quality hydrogen reaches fuelling stations. Even trace levels of contaminants could cause serious damage to fuel cells.
This poster describes how thermal desorption provides flexible sampling solutions for capturing and concentrating volatile organic compound impurities in hydrogen fuels and can be used for continuous on-line monitoring or widespread off-line sampling and analysis from fuelling stations.
Please complete the form below to download the poster