Application and validation of a pocket diffusive sampler for determination of VOCs in air using TD–GC–MS
Presented at the National Environmental Monitoring Conference 2020
The poster entitled "Application and validation of a pocket diffusive sampler for determination of VOCs in air using TD–GC–MS" was presented by Markes International at the National Environmental Monitoring Conference, which was held on 3–21 August 2020 as a virtual conference.
The advantages of radial diffusive samplers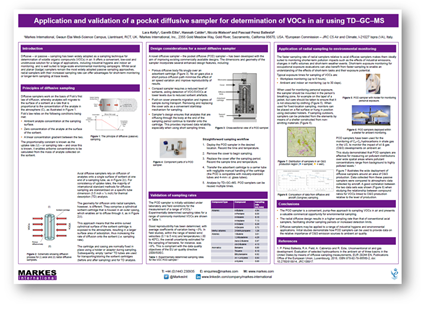 Diffusive – or passive – sampling has been widely adopted as a sampling technique for determination of volatile organic compounds (VOCs) in air. It offers a convenient, low-cost and unobtrusive solution for a range of applications, including industrial hygiene and indoor air monitoring, and is well suited to large-scale environmental monitoring campaigns. Whilst axial and planar (badge) samplers remain the most widely adopted passive sampling approaches, radial samplers with their increased sampling rate can offer advantages for short-term monitoring or longer-term sampling at trace levels.
The POD radial sampler
A novel diffusive sampler – the pocket diffusive (POD) sampler – has been developed with the aim of improving existing commercially available designs.
The POD sampler is a convenient, pump-free approach to sampling VOCs in air and presents a valuable commercial opportunity for environmental sampling.
The radial diffusive design results in a higher sampling rate than that of conventional axial samplers, facilitating shorter sampling periods or increased detection limits.
Diffusive samplers may be applied to a range of industrial hygiene and environmental applications. Initial studies demonstrate how POD samplers can be used to provide data on the relative importance of oil and gas emission sources to ambient air quality.
Please complete the form below to download the poster