Evaluating high-capacity sorptive extraction (HiSorb™) for VOCs as biomarkers related to respiratory and liver diseases in culture media
Presented at the Owlstone Breath Biopsy Conference 2021
The poster entitled "Evaluating high-capacity sorptive extraction (HiSorb™) for VOCs as biomarkers related to respiratory and liver diseases in culture media" was presented by Markes International at the Owlstone Breath Biopsy Conference, which was held on 12–13 October 2021 as a virtual conference.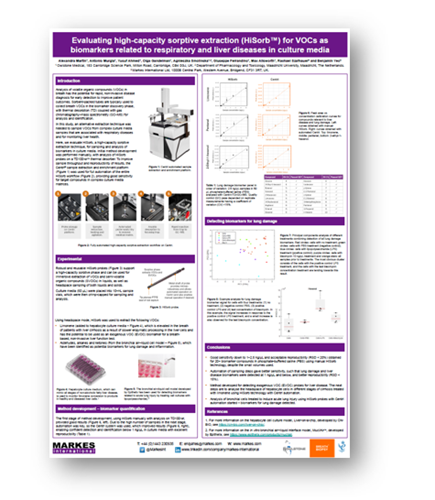 Full automation of the workflow and improved throughput and reproducibility  
Analysis of volatile organic compounds (VOCs) in breath has the potential for rapid, non-invasive disease diagnosis for early detection to improve patient outcomes. Sorbent-packed tubes are typically used to collect breath VOCs in the biomarker discovery phase, with thermal desorption (TD) coupled with gas chromatography–mass spectrometry (GC–MS) for analysis and identification.
In this study, an alternative extraction technique was needed to sample VOCs from complex culture media samples that are associated with respiratory diseases and for monitoring liver health. In this poster, we evaluate HiSorb, a high-capacity sorptive extraction technique, for sampling and analysis of biomarkers in culture media. Initial method development was performed manually, with analysis of HiSorb probes on a TD100-xr™ thermal desorber. To improve sample throughput and reproducibility of results, the Centri® sample extraction and enrichment platform was used for full automation of the entire HiSorb workflow, providing good sensitivity for target compounds in complex culture media matrices.
Please complete the form below to download the poster