How thermal desorption gives research and industry the edge when analysing emerging organic contaminants
Presented at Pittcon 2021
The poster entitled "How thermal desorption gives research and industry the edge when analysing emerging organic contaminants" was presented by Markes International at Pittcon, which was held on 8–12 March 2021 as a virtual conference.
Tackling the most challenging environmental contaminants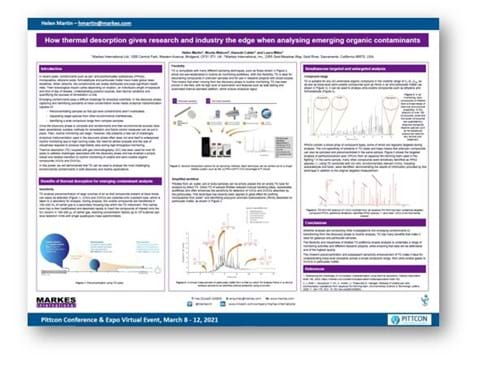 When airborne, contaminants such as per- and polyfluoroalkyl substances,
microplastics, ethylene oxide, formaldehyde and particulate matter are widely distributed and pose significant health risks.
However, capturing and identifying these contaminants at trace concentration levels needs analytical instrumentation capable of preconcentrating samples so that ppt-level contaminants aren't overlooked, separating target species from other environmental interferences, and identifying a wide compound range from complex samples.
In this poster, we will demonstrate that TD can be used to analyse the most challenging environmental contaminants.
Please complete the form below to download the poster